ABOUT OUR RESORT

Nestled amidst the natural beauty of sandy deserts and Aravalli mountains, Atithi Camp & Resort promises a lifetime of unforgettable experiences. Our fully equipped tent accommodations offer a rustic yet luxurious ambiance, featuring spacious verandas, comfortable bedrooms, and en-suite facilities. Experience the romance of a traditional candlelit night, immersed in Rajasthan's captivating culture, making your stay truly mesmerizing.

Ranked as the Best Luxury Camp in Pushkar, Atithi Camp & Resort boasts world-class amenities in a stunning location, just 4 km from the Brahma Temple and Pushkar Lake. It is the perfect choice for those seeking Pushkar Camp Tents for weddings and offers an array of activities like village safaris, trekking, and hill climbing to explore the enchanting views of Pushkar.

Choose from our well-appointed Eight Luxury AC Swiss Tented Camps and Four Luxurious AC Machan Tents, beautifully designed with a blend of antique furniture and modern fittings. Our vegetarian multi-cuisine restaurant offers an extensive range of Indian and international dishes, earning us the title of the best veg restaurant in Pushkar based on visitors' reviews. Our specialty lies in serving the most authentic Rajasthani and Indian cuisine, ensuring a delightful culinary experience during your stay at Atithi Camp & Resort. For bookings, contact us at 9461000754.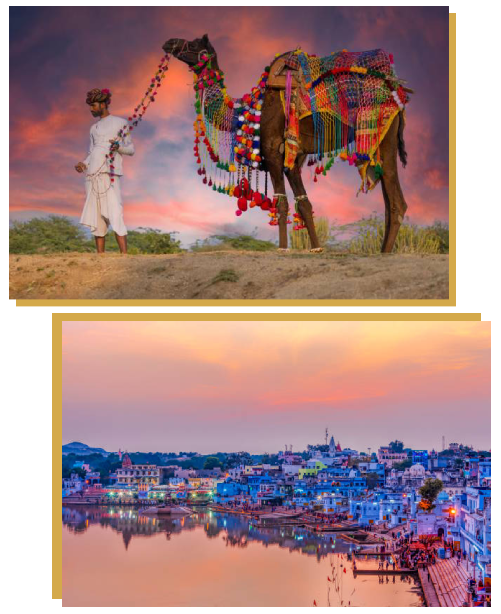 The Ultimate Retreat for Relaxation and Rejuvenation
Pushkar, a small town in Rajasthan, India, is famous for its serene atmosphere, holy lakes, and the famous Pushkar Camel Fair. But, did you know that it is also home to one of the most luxurious spa resorts in the country? Atithi Resorts in Pushkar offers guests a chance to experience the ultimate in relaxation and rejuvenation. The resort is situated on the outskirts of the town, surrounded by lush green gardens, and boasts of a wide range of facilities and services that cater to the needs of both leisure and business travelers. The resort features well-appointed rooms and suites, all designed to provide maximum comfort and luxury. Guests can choose from a variety of room categories, including Deluxe Rooms, Premium Rooms, and Suites, each with its own private balcony or terrace.
Atithi Resort is also home to a state-of-the-art spa, offering a wide range of treatments and therapies to help guests relax and rejuvenate. The spa features a variety of massage rooms, a sauna, a steam room, and a Jacuzzi. Guests can choose from a range of treatments, including traditional Ayurvedic treatments, Swedish massage, and Thai massage, all of which are tailored to suit individual needs and preferences. In addition to the spa, the resort also offers guests a wide range of recreational facilities, including fitness center, and a yoga studio. Guests can also enjoy a game of tennis or squash on the resort's courts, or take a leisurely stroll in the gardens.
With its luxurious accommodation, state-of-the-art spa, and wide range of recreational and dining options, the resort offers guests the ultimate in relaxation and luxury. So, book your stay at Atithi Resorts in Pushkar today and experience the ultimate in relaxation and rejuvenation.