CAMEL
SAFARI AT ATITHI CAMP
Are you ready for an unforgettable adventure in the heart of Pushkar, Rajasthan? Look no further than Atithi Camp for the most thrilling Camel Safari in Pushkar! Experience the magic of the Thar Desert like never before as you embark on a journey through the golden sand dunes.
Camel Safari in Pushkar is more than just a ride; it's an opportunity to connect with the culture and beauty of this region. Our safaris are carefully curated to provide you with an authentic Rajasthani experience. As you hop on the back of these magnificent creatures, you'll be transported to a world where time seems to stand still. The vast expanse of the desert, the vibrant culture, and the warm hospitality of the locals will leave you mesmerized.
At Atithi Camp, we offer various Camel Safari packages to suit your preferences. Whether you're looking for a short, scenic ride during the golden hours of sunrise or sunset, or you want to delve deeper into the desert and experience overnight camping under the starry sky, we've got you covered.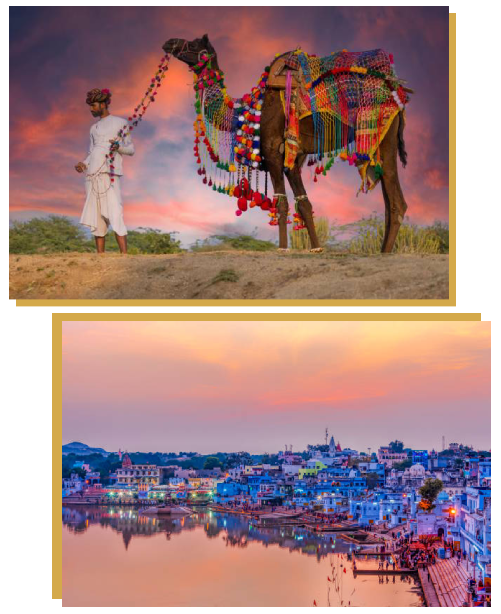 Our Experienced Guides
Our experienced guides will lead you through the desert, sharing stories and insights into the local way of life. You'll visit traditional villages, interact with the friendly villagers, and witness their age-old customs and traditions. The Camel Safari in Pushkar isn't just about riding camels; it's an opportunity to immerse yourself in the cultural tapestry of Rajasthan.
Highlights Of Our Camel Safari
One of the highlights of our Camel Safari is the mesmerizing sunset view from the dunes. As the sun sets over the desert, painting the sky with hues of red and orange, you'll feel a sense of peace and serenity that's hard to find elsewhere. The experience is both breathtaking and tranquil.
If you're up for a more extended adventure, you can opt for our overnight Camel Safari. After a day of exploration, you'll settle into a comfortable campsite where a sumptuous Rajasthani dinner awaits. Sitting around the bonfire, listening to folk music, and gazing at the starlit sky is a memory that will stay with you forever.
When it comes to Camel Safari in Pushkar, Atithi Camp ensures your safety and comfort. Our camels are well-cared for, and our guides are knowledgeable about the terrain. So, you can focus on enjoying the journey and taking in the picturesque landscape.
For those seeking a unique and enriching experience, our Camel Safari in Pushkar is the perfect choice. Whether you're an adventure enthusiast, a nature lover, or a culture seeker, this safari caters to all. It's an opportunity to step out of your comfort zone and create memories that will last a lifetime.
Book your Camel Safari in Pushkar
Book your Camel Safari in Pushkar with Atithi Camp and get ready for an extraordinary journey through the golden sands and vibrant culture of Rajasthan. Explore the desert, experience the warmth of the locals, and savor the thrill of a Camel Safari that's like no other.
Don't miss out on this chance to make your visit to Pushkar truly memorable. At Atithi Camp, we invite you to embrace the essence of Rajasthan with our Camel Safari in Pushkar.
Get in Touch with Us Today